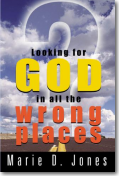 Full Title: Looking for God in All the Wrong Places
Publisher: Paraview Press
Purchase: Barnes & Noble, Amazon.com
GOT GOD? Everybody searches for the divine. But so many of us keep seeking our "Higher Power" in inappropriate places — like drugs, alcohol, sex, money, power, even other people. Looking for God in All the Wrong Places is a spiritual field guide that uses humor, insight, and experience to examine the people, places, and things we often mistake for our Higher Power. By revealing the detours, pitfalls, and roadblocks along the path to union with the divine, this enlightening and entertaining book provides a powerful navigational tool that spiritual seekers can use to avoid looking in the wrong places and get to where God can truly be found.
Quotes and Reviews
"Offering paths for the faithful to follow in order to focus one's mind and truly open one's heart to God's love, Looking For God In All The Wrong Places is a recommended and astute contemplation for Christian readers."
— Midwest Book Review
"I found this book to be one of the few spiritual tomes on the marketplace that made me think and smile at the same time. It offers the fun, lightness of a Dr. Wayne Dyer book, with the intelligence of something more research-heavy, such as Deepak Chopra. . . . I highly recommend Looking For God In All The Wrong Places to anyone on the rocky road to spiritual fulfillment."
— Millicent M. Savino, RebeccasReads.com
"In the vein of great social commentators, Reverend Jones uses humor and wit to convey her heartfelt beliefs.Looking for God in All the Wrong Places is as interesting as it is informative. The entire book is exceptional, but Rev. Marie earns extra kudos for the eleventh commandment!"
— MyShelf.co